Zangarmarsh Guide Level 62-63
Horde Zangarmarsh Guide Part 3
Level 63

At Zabra'jin turn in your quests:



Stinging the Stingers and get the follow-up The Sharpest Blades
Impending Attack and get the follow-ups Us or Them and Message to the Daggerfen
Pursuing Terrorclaw
The Biggest of Them All



Ride southwest to Watcher Leesa'oh and turn in Familiar Fungi. Get the follow-up Stealing Back the Mushrooms.


Ride east and kill 10 Marshfang Slicers and Count Ungula. It drops "Count" Ungula's Mandible which starts the quest The Count of the Marshes.


Ride southeast to the bottom of the stairs of the Boha'mu Ruins. Use your Feralfen Totem to summon a spirit: then, kill it.


Return to Zabra'jin.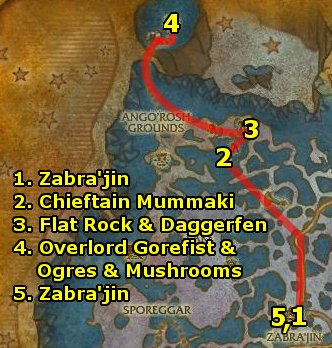 At Zabra'jin, turn in A Spirit Ally and The Sharpest Blades.


Ride north to Daggerfen Village. At the village, climb the main building and kill Chieftain Mummaki at the top of it. Loot Chieftain Mummaki's Totem.


Clear your way northeast, killing 15 Daggerfen Muckdweller and 3 Muckdweller Assassin along the way. At the Flat Rock, use your Murloc Cage.


Ride northwest across the rope bridge onto the ogre island. Don't enter the cave, instead, climb up the hill. At the top of the area:



Kill Overlord Gorefist
Kill 10 Ango'rosh Souleater and 10 Ango'rosh Mauler
Collect 10 Box of Mushroom



Hearth back to Zabra'jin.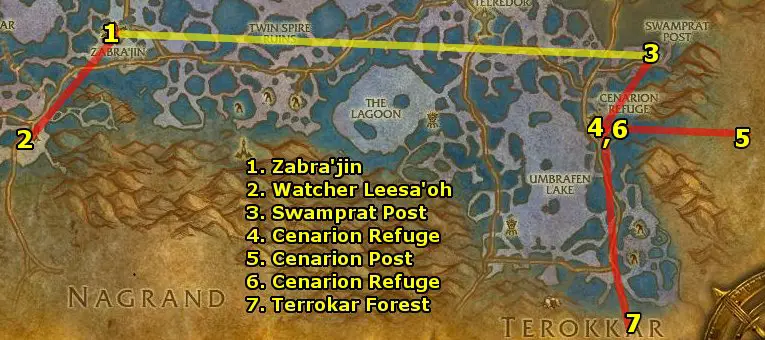 Time to finish off the area by turning in your quests.
At Zabra'jin, turn in your quests:



Have You Ever Seen One of These?
Message to the Daggerfen
Us or Them
Wanted: Chieftain Mummaki

Get the two quests here (which require level 64): Reinforcements for Garadar and The Ogre Threat.


Ride southwest to Watcher Leesa'oh and turn in The Count of the Marshes (turn this quest in first!) and Stealing the Mushrooms. (Note: you don't have to follow her and listen to her if you want to save time.)



Then, ride back to Zabra'jin.



Fly to Swamprat Post and turn in Nothin' Says Lovin' Like a Big Stinger and There's No Explanation for Fashion.


Ride southwest to Cenarion Refuge and turn in:



Drain Schematics and get the follow-up Warning the Cenarion Circle
Balance Must Be Preserved
A Warm Welcome



Head east back to Hellfire Peninsula's Cenarion Post and turn in Warning the Cenarion Circle. Get the follow-up Return to the Marsh.


Return to Cenarion Refuge and turn in Return to the Marsh.


Ride south into Terrokar Forest. We're done with Zangarmarsh - abandon all Zangarmarsh quests you may not have finished (other than Reinforcements for Garadar and The Ogre Threat.)